The quick answer to selling homes fast is to call David Norwood-Central Coast Real Estate – 805-270-5860 – David@DNorwood.com
Because I do not have to pay other brokers, my commission rate is lower than large franchises that require agents to give a large portion of the commission to the big broker that does nothing extra.  David Norwood – Central Coast Real Estate has been in business for over 16 years and has listed homes in every price range and will provide everything that that is required to sell your home FAST!
1.   I will appraise your home to determine what your home will sell for.
2.   Provide a competitive commission schedule.
3.   Provide a web page of your home on my web site .
4.   Offer Staging advice.
5.   Professional photographs of your home.
6.   Professionally designed brochure / flyer.
7.   Place For Sale sign and flyer box.
8.   Provide an electronic lock box.
9.   Give extensive internet exposure in over 25 Real Estate Web Sites.
10.  Create unique Marketing strategies.
11.  Host broker and public open houses and advertising as needed.
12.  Provide consult on negotiation strategies.
13.  Prepare counter offers and explain the terms of the agreement.
14.  Provide all the documents required for any situation. All designed to protect you, the seller.
15.  GET you the highest price possible.
Once you are in Escrow, I will provide information and referrals. For example:
1.    Disclosures.
2.    Moving and storage companies.
3.    Termite inspectors.
4.    Repair help.
5.    Property tax transfer information (proposition 60 and 90).
I practice risk management.  I use Errors & Omissions Insurance (E&O), with access to a legal hotline.
I will help give you "Peace of Mind" by reducing your risk and anxiety.
The best way to sell your CA home land or lot Central Coast California real estate MLS Multiple listing services.  Appraiser will find out how much your home is worth before you list.  Learn how to negotiate to get a high price for your home. You will need disclosures to give to a buyer so you will not have any problems after you sell.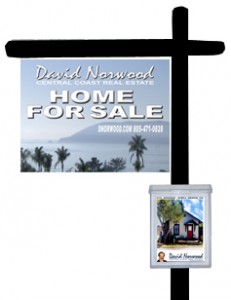 QUALITY PHOTOGRAPHY AND DESIGN – SELL YOUR HOME ON THE CENTRAL COAST OF CALIFORNIA
Quality Photography and Graphic Art Will Make the Difference Between Selling or Not Selling your Home
David Norwood-Central Coast Real Estate provides quality photography and design for your sign flyer,  as David Norwood worked as a professional photographer and designer before he became a full time Broker.
Over Eighty percent of your marketing exposure is in the MLS Multiple Listings and on the sign in front of you home.
 Contact David Norwood-Central Coast Real Estate for Find out you easy it will be to sell your home.
805-270-5860 / David@DNorwood.com